Why Is My Car Overheating?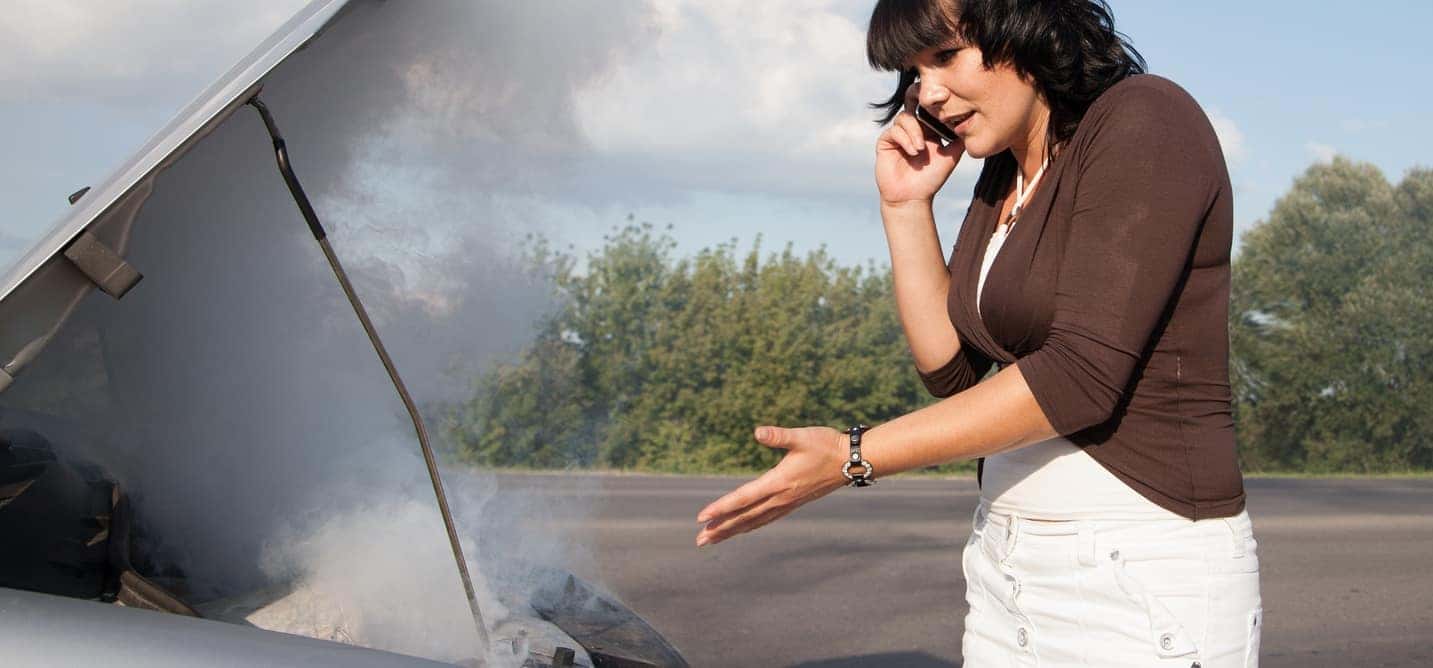 The most common causes of an overheating engine are a cooling system leak or a radiator malfunction. If you notice your "check coolant temperature" dash light flashes while driving, you'll want to have your vehicle checked out. It's important to maintain a safe engine temperature between 195 and 200 degrees. Anything over that spells trouble. Check out our service center guide to learn what causes a car to overheat, how to stay safe if your engine overheats while you're on the road in Madison, and how to avoid surprise overheating in the future.
What Causes a Car to Overheat?
First, you'll want to know the signs of your engine overheating. This could be shown by thick, gray smoke coming from the hood or even a sudden spike in the engine temperature gauge and unusual smell. So, what does it mean when your car overheats? Take a closer look at what causes a car to overheat:
Reasons a Car Would Overheat
Leaking Cooling System – The most common cause of engine overheating is a leak somewhere in your cooling system. Your car's radiator, radiator hoses, a water pump, a head gasket, and a thermostat housing comprise the cooling system. If just one component breaks or cracks, the entire system could be compromised.
Coolant Hose Blockage – Trapped dirt or debris build-up in a coolant hose and cause a blockage, inhibiting proper cooling function.
Improper Coolant Mixture – Your Mazda vehicle requires a 50/50 water-to-coolant ratio. If the balance is off or you've used the wrong coolant, overheating may be a consequence. Check with expert Mazda technicians to be sure you're using the correct coolant.
Radiator Issues – Your radiator may also be struggling with a leak or blockage. Radiator repairs are expensive, but necessary — and will only get worse if you put them off.
Broken Water Pump – A shifted pump shaft of a leak may prevent the water pump from delivering coolant to cool the engine. Fortunately, this is a relatively simple repair.
What to Do When a Car Overheats
After seeing the reasons a car would overheat, the next step is learning what to do if you suspect an overheating engine while driving. First, you'll want to pull over and park the vehicle so the engine can cool down. If when you restart the engine, the temperature gauge goes down, drive your vehicle to the nearest service center to be looked at or schedule an appointment ASAP. If the temperature gauge spikes, you'll want to contact roadside assistance or your dealership to have your vehicle towed. As you think about what to do when a car overheats, keep these important points in mind:
Wait 30 minutes for your car to cool before trying to open the hood. Hot steam could cause injury.
When you do look under the hood, do not attempt to remove the radiator cap. The radiator can stay hot for much longer and may cause serious burns.
Trust Mazda of Jackson for Expert Car Care Tips
If you have any questions or are looking to have your vehicle looked at before you drive it out of Brandon, contact the Mazda of Jackson service team. Our technicians will be more than happy to service your vehicle at a more affordable price. Or use the convenient Mazda Roadside Assistance phone number to get the help you need! Also, be sure to check out our available service specials to help you save more and contact us with any questions about our service tips, the Mazda CX-5 trim levels, and more.
More from Mazda of Jackson
Despite its compact SUV frame, the Mazda CX-5 sports some impressive interior space and exterior measurements. It's lightweight and compact exterior makes for smooth driving and handling on the Madison roads, and its interior makes for easy cargo storage. Learn more about the Mazda CX-5 dimensions and other measurements with Mazda of Jackson, and then visit our…

Looking for something with a little more space for your future Madison road trips? There are currently four different Mazda crossover SUV options from which you can choose. Explore the new Mazda SUV models for 2021 with Mazda of Jackson to see which SUV is the perfect fit for your lifestyle needs, and then visit us to…

The 2021 Mazda CX-9 is already impressive, bolstering a powerful towing capacity and plenty of safety features that give it an edge on other cars in the Madison area. However, the comfort of your ride is just as important. Explore the interior of the Mazda 3-row SUV with Mazda of Jackson, and see what makes it so…
>